Get the best performance from your most important asset – your people – by providing on-point training programs. 
The Martin Foundations™ training program was conceived as a way to package our accumulated knowledge and deliver it in an impactful, engaging way to your employees. Based on our two highly regarded books, Foundations™ and Foundations™ for Conveyor Safety, the program addresses multiple key topics, including conveyor safety, belt alignment, belt cleaning, belt maintenance and splicing, transfer point engineering and dust management.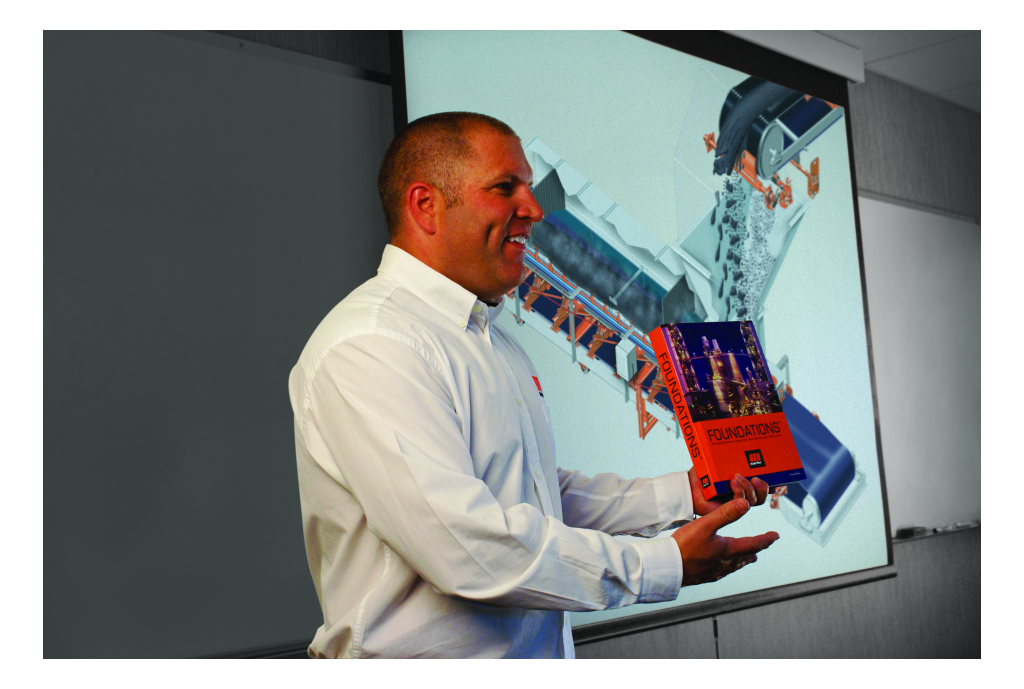 The Foundations™ training program is provided in FIVE levels to educate employees based on varying levels of responsibility and experience:
This 2-hour course is a basic introduction to conveyor systems. Ideal for newer employees who may not be familiar with conveyor systems and their components, it is designed to provide an overview of conveyor systems with emphasis on safe operations and control of fugitive material. Includes course materials.
This full-day session (6 to 8 hours of training) provides an in-depth look at ways to control fugitive material and maximize efficiency, leading to improvements in the safety, performance and ROI of conveyors systems. It is designed for employees who operate and maintain these systems, along with their supervisors and managers. Optional second day customized to your specific business is available.
*Online Option Available: Self-paced program intended for customers who may not be able to schedule training in a classroom setting.
To request online training, click here
Expanding upon our existing Operations and Maintenance course, this two-day class is developed for companies who not only want a highly skilled workforce but also want to experience the full benefits of improved conveyor performance. This hybrid course incorporates class room teachings, hands-on refreshers, and conveyor surveys with action plans.
Day 1: 6 - 8 hours in the classroom.
Day 2: On site, 3-4 conveyor walk down with instructor, attendees, and management. In-depth conveyor summary and action plan included.
One-day program (6-8 hours) focused on the improvement of belt-conveyor operations and the justification of the investment in systems to reduce fugitive material, control dust, extend component life and improve the performance of both conveyor systems and plant personnel.
Advanced Conveyor Safety Training »
This one-day industry leading course will provide insight on how to design, build, maintain, and operate conveyors for reduced safety risks to plant personnel and equipment. It will focus on the financial techniques that can be used to unlock huge cost savings that can be invested in safety-related projects.
Martin Engineering's newest publication, FOUNDATIONS™ for Conveyor Safety – The Global Best Practices Resource for Safer Bulk Material Handling, in combination with this training course will show executives, engineers and upper management that significant improvements in safety, cleanliness, and productivity can be attained.
In some cases, Foundations™ training courses may qualify for Continuing Education Units (CEUs) or Professional Development Hours (PDHs), as well as toward the Parts 46/48 Annual Refresher Training.
For more information on our Foundations™ Training Programs or to schedule a workshop, call 800-544-2947 or click here.
Foundations™ Training Feedback
"I have learned more today in this class than I have in 12 years working in this industry. Now I know what to look for."

- David Holley, Maintenance Technician | Hickman Quarry, Rogers Group Inc.
Foundations™ Training Feedback
"In 2016 I attended the Martin Engineering FOUNDATIONS™ training at their Training Facility in Neponset, Illinois. I have worked in the Aggregate Industry for 40+ years and have been heavily involved in the maintenance of conveying systems during this period. The training that I received was second to none. I learned things about conveying systems that would have been very helpful throughout my career with the Rogers Group. I felt so strongly about the professionalism and content received in this training that in October 2016 I scheduled the same training session for 50 of our Plant Managers. The feedback that we received from those who attended was overwhelming. We have scheduled a second session where we filled the room capacity of 50. The great thing about this training is that it is very interactive with very practical solutions to the problems that all companies face in their operations. We are already seeing the benefits of lowered cost related to conveying materials with our company. Great Job, and we look forward to another great session!"

- Ted Powell, Operational Improvement Project Manager | Rogers Group Inc. 
Foundations™ Training Feedback
"Your Foundations™ Conveyor class, I can honestly say was the best training I have received during my tenure as a Production Supervisor at SGI. All the class material was covered thoroughly and all of our questions were answered by very qualified instructors. They were extremely knowledgeable and made the class very enjoyable. I would highly recommend this class for anyone who works with conveyors in their workplace. Thank you!!!"

- Wendell Bingaman, Production Supervisor | Specialty Granules Inc. Charmian Plant, Blue Ridge Summit, PA
Call Us Today
+ 61 1300 627 364